Top Things to do Toulon France : Our best recommendations !
Toulon is a vibrant port city located in the southeastern part of France, along the picturesque French Riviera. It is the capital of the Var department and is renowned for its stunning Mediterranean coastline, which features beautiful beaches and clear turquoise waters. Toulon is also home to one of the largest and busiest military harbors in France, giving it a strategic maritime significance.
In addition to its maritime prominence, Toulon boasts a rich history, with historic sites like the Toulon Cathedral and the Old Town (Vieille Ville) offering glimpses into its past. The city's colorful markets, lively waterfront promenades, and a diverse culinary scene add to its charm. Toulon is also known for its strong rugby culture and is a hub for naval industries. This combination of natural beauty, history, and modern vitality makes Toulon an intriguing destination on the French Mediterranean coast.
Here are our best tips to enjoy Toulon and its surroundings.
Things to do Toulon France : book your Tour with a specialist !
Things to do Toulon France : The food market Cours Lafayette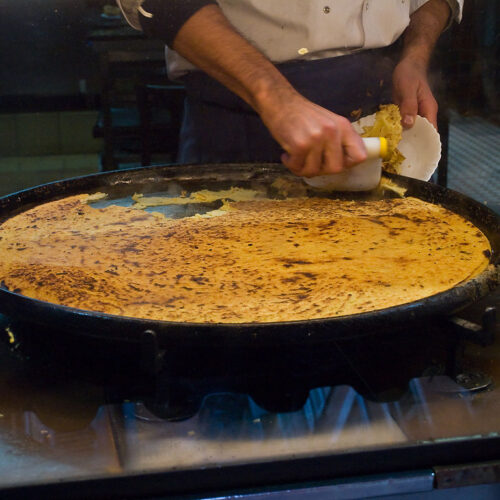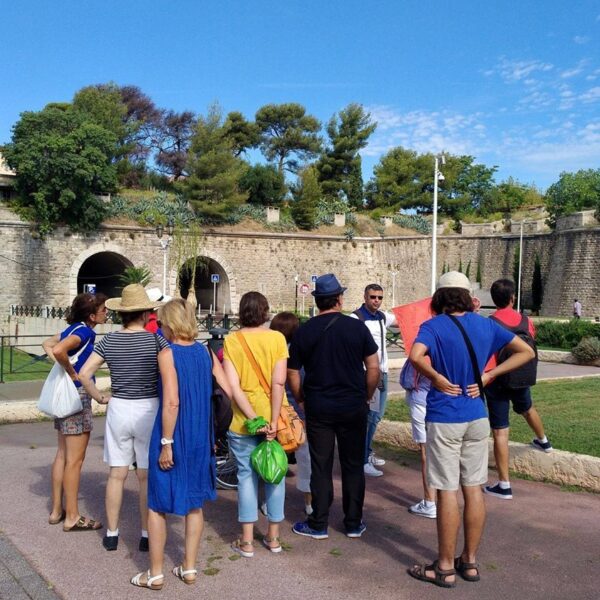 Discover Toulon with a Tour Guide
The Food Market Cours Lafayette, also known as "Marché du Cours Lafayette," is a lively and bustling market located in Toulon, a port city in the south of France. This market is a vibrant hub for culinary enthusiasts and visitors looking to explore the local flavors and fresh produce of the region.
At the Food Market Cours Lafayette, you can expect to find an array of stalls and vendors offering a wide variety of food items, including fresh fruits and vegetables, artisanal cheeses, cured meats, seafood, olives, herbs, spices, and more. It's a fantastic place to discover the tastes of Provence and the Mediterranean, with an emphasis on local and seasonal products.
In addition to the fresh produce, you'll also come across stands selling prepared foods like pastries, bread, and even international dishes, reflecting the diverse culinary influences in the region. The market's atmosphere is lively and colorful, making it a delightful place to stroll, shop, and immerse yourself in the vibrant food culture of Toulon. Whether you're looking to shop for ingredients to cook your own meals or simply want to sample some of the local specialties, the Food Market Cours Lafayette is a must-visit for food lovers exploring Toulon.
Discover The Liberty Square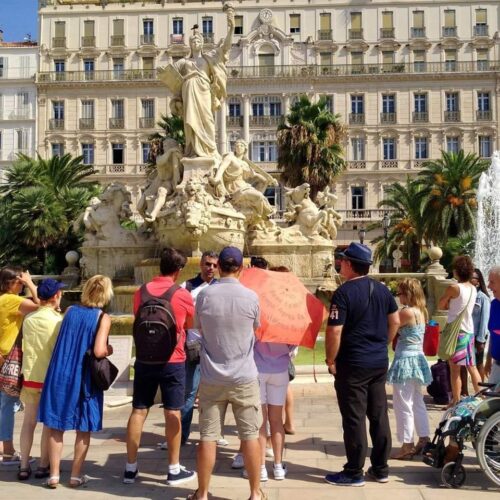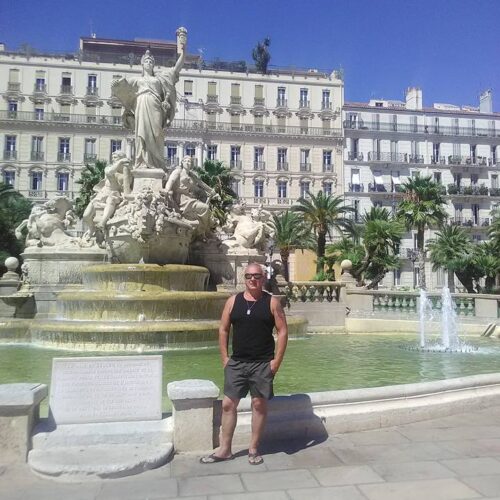 Liberty Square, known as "Place de la Liberté" in French, is a prominent and historic square located in the heart of Toulon, France. This square is a significant focal point in the city, characterized by its grand architecture and cultural importance.
At the center of Liberty Square stands a majestic statue of Liberty, which is a symbol of freedom and a tribute to Toulon's role in the French Revolution. The square itself is surrounded by elegant buildings, including the Toulon Opera House (Opéra de Toulon), a magnificent neoclassical structure, and the Hôtel de Ville (City Hall), with its impressive façade.
Liberty Square serves as a central gathering place for locals and visitors alike. It hosts various events, festivals, and cultural performances throughout the year. The square is also surrounded by cafes, shops, and restaurants, making it a lively and vibrant area to explore.
The combination of historical significance, architectural beauty, and cultural activities makes Liberty Square a must-visit destination when exploring Toulon. It offers a glimpse into the city's rich heritage and provides a picturesque setting for leisurely walks and people-watching.
Shore excursion Toulon : the relaxing atmosphere of Cassis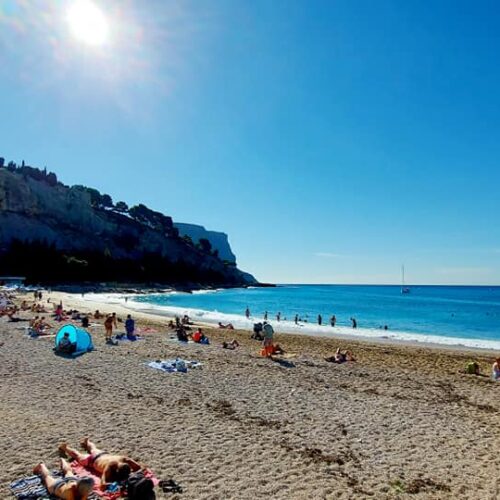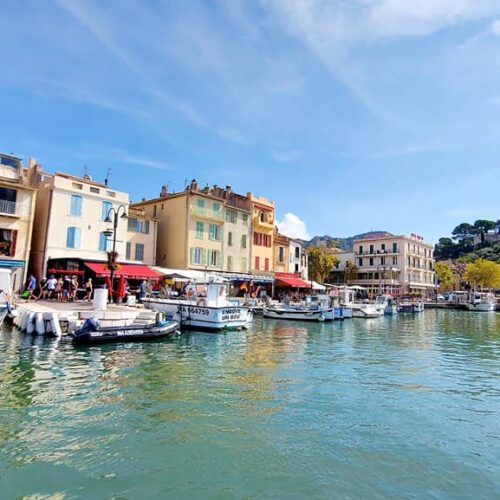 Cassis is a charming coastal town located to the north west of Toulon, along the stunning Mediterranean coastline of the French Riviera. It is not in the north of Toulon but rather to the southeast. Cassis is known for its picturesque setting, nestled between dramatic limestone cliffs and the azure waters of the Mediterranean Sea. Here's a brief description of Cassis:
Cassis is celebrated for its natural beauty, including the famous Calanques, a series of deep inlets and cliffs that offer some of the most breathtaking coastal scenery in France. Visitors to Cassis can explore these Calanques through hiking trails or boat tours, providing opportunities for swimming, sunbathing, and enjoying the pristine coastal environment.
The town itself exudes a quaint and Provencal charm, with its colorful waterfront buildings, narrow streets lined with cafes and boutiques, and a bustling harbor filled with fishing boats and pleasure craft. Cassis is renowned for its wine production, particularly its white wine, and visitors can enjoy wine tastings at local vineyards.
The town's vibrant food scene includes fresh seafood, Mediterranean cuisine, and local specialties, making it a delightful destination for culinary enthusiasts. Whether you're interested in exploring the natural beauty of the Calanques, relaxing on the beaches, or savoring the flavors of Provence, Cassis is a captivating coastal gem that is well worth a visit when traveling in the region.
Book your Tour in Cassis with a certified Guide
Things to Toulon France : Marseille city tour at 1 hour
Marseille is the largest city in the Provence-Alpes-Côte d'Azur region and the second-largest city in France after Paris. It is known for its rich history, diverse culture, and vibrant Mediterranean atmosphere. Marseille is renowned for its Old Port (Vieux-Port), historic districts like Le Panier, and cultural attractions such as the MuCEM (Museum of European and Mediterranean Civilizations). The city is also famous for its seafood cuisine, including the traditional dish bouillabaisse.
Toulon, on the other hand, is situated to the nortg of Marseille and is the capital of the Var department. It is known for its naval port, beautiful Mediterranean coastline, and proximity to attractions like Cassis and the Calanques, as mentioned in a previous response.
Both Marseille and Toulon are distinct cities, each with its own unique character and attractions, and they are both located along the stunning Mediterranean coast of southern France.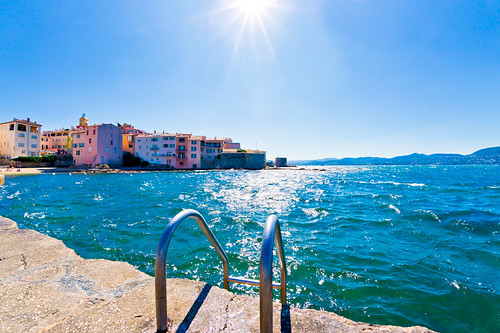 Saint-Tropez is indeed located to the south of Toulon along the French Riviera, and it's known as a glamorous and picturesque coastal town. Here's a brief description of Saint-Tropez:
Saint-Tropez is one of the most famous and sought-after destinations on the French Riviera. It is renowned for its beautiful beaches, luxurious yacht-filled harbor, and vibrant nightlife. The town was once a small fishing village but gained international fame in the 20th century, especially during the 1960s when it became a hotspot for celebrities and jet-setters.
The heart of Saint-Tropez is the charming old town with its narrow cobblestone streets, colorful houses, and bustling markets. Visitors can explore the Place des Lices, which hosts a lively Provençal market twice a week, and enjoy the cafe culture that permeates the town. The harbor, known as the Vieux Port, is a hub of activity, where you can admire luxury yachts and dine at waterfront restaurants.
Saint-Tropez is also famous for its beautiful beaches, including Pampelonne Beach, which stretches for several kilometers and is lined with beach clubs and restaurants. The town's vibrant nightlife comes to life in the evening, with a plethora of bars, clubs, and entertainment options.
While Saint-Tropez is known for its glamour and luxury, it also offers a rich cultural and historical heritage, including the 16th-century Citadel and various museums. It's a destination that combines natural beauty, cultural attractions, and a vibrant social scene, making it a popular choice for travelers seeking the best of the French Riviera.