Visit Narbonne France : The unmissable places !
Narbonne is a city located in the south of France, in the Occitanie region. It is situated near the Mediterranean Sea, approximately 15 kilometers from the coast. With a rich history dating back to Roman times, Narbonne was once an important Roman colony known as Narbo Martius.
Today, Narbonne is an appealing destination for tourists, offering a blend of history, culture, and natural beauty. The city's historic center is home to numerous ancient buildings, such as the Saint-Just-et-Saint-Pasteur Cathedral, an impressive example of Gothic architecture. The Archbishop's Palace is another notable historical monument, featuring peaceful gardens and sumptuous halls.
Narbonne also boasts a rich culinary heritage, thanks to its proximity to the sea and the surrounding vineyards. Fresh seafood is abundant, and the region is known for its wines, particularly the red wines of Corbières and the white wines of Fitou.
Visitors to Narbonne can also enjoy the nearby beaches, such as Narbonne Plage and Gruissan, which offer vast stretches of fine sand and clear waters. Water sports activities, such as windsurfing and kiteboarding, are popular in the area.
In summary, Narbonne is a city rich in history, culture, and natural beauty, offering visitors a unique experience. Whether exploring its historical heritage, indulging in delicious cuisine, or enjoying the beaches, Narbonne is a destination not to be missed in the south of France.
Visit Narbonne France : book your Tour with a specialist !
The Saint-Just and Saint-Pasteur cathedral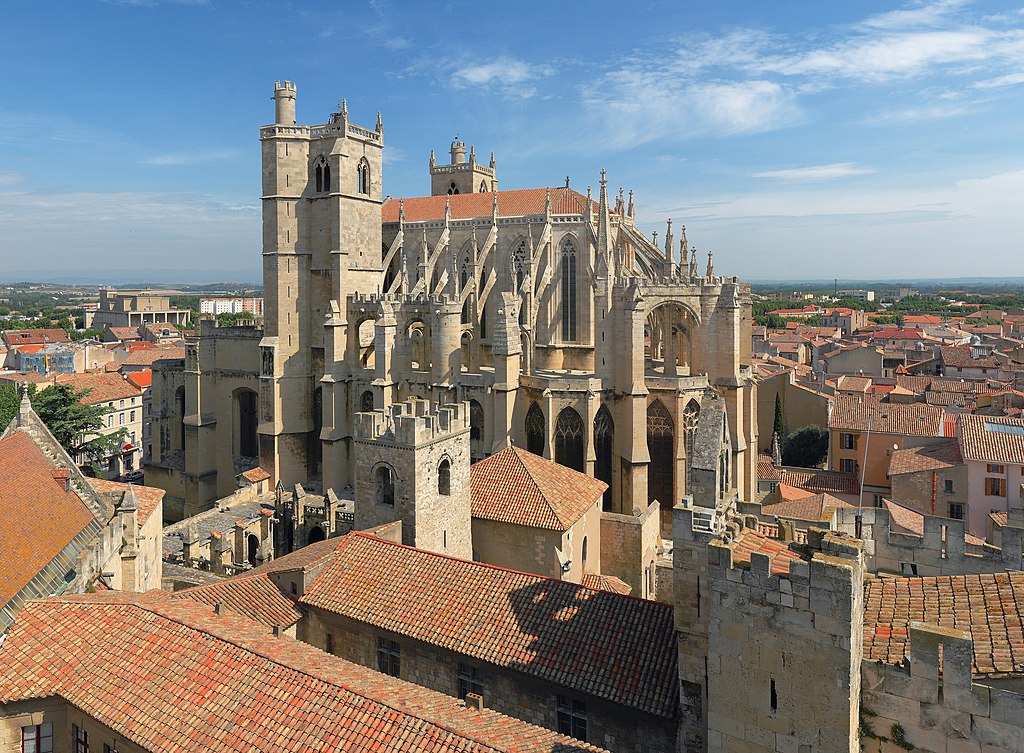 The Saint-Just-et-Saint-Pasteur Cathedral, also known as Narbonne Cathedral, is one of the prominent historical landmarks in Narbonne, France. It is located in the city center and holds significant architectural and cultural value.
The construction of the cathedral began in the 13th century, but it was never fully completed due to various constraints. The cathedral showcases a blend of Gothic and Romanesque architectural styles. Its exterior is striking, adorned with intricately carved facades and magnificent rose windows. Inside, the cathedral boasts a spacious and luminous interior, characterized by tall pillars and elegant vaulted ceilings. Visitors can admire beautiful works of art, including colorful stained glass windows, sculptures, and frescoes.
One notable feature of the cathedral is its choir, which is one of the largest in France. It is lavishly decorated and houses precious religious artifacts. The cathedral is also home to an impressive organ, which is used for concerts and religious ceremonies.
The Saint-Just-et-Saint-Pasteur Cathedral remains an active place of worship, but it is also open to visitors. Tourists can explore the interior of the cathedral, admire its architecture, and learn about its history through informative panels and guided tours.
In summary, the Saint-Just-et-Saint-Pasteur Cathedral in Narbonne is an architectural gem that reflects the city's rich historical past. It offers visitors a chance to marvel at medieval art and architecture while serving as an active place of worship for the people of Narbonne.
Explore the history district of Narbonne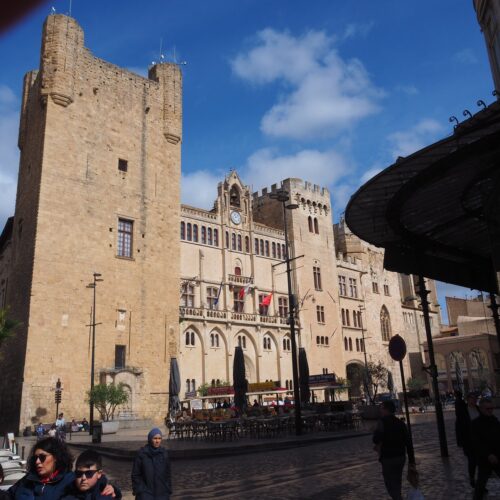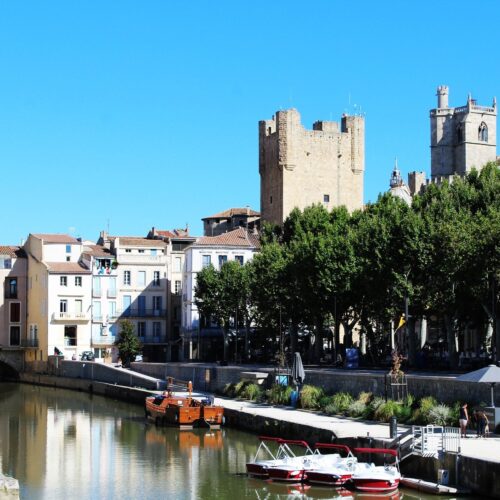 The historic district of Narbonne is a charming and picturesque neighborhood that is filled with narrow streets, lively squares, and ancient buildings. It is located around the Place de l'Hôtel de Ville, which serves as the heart of the city.
One of the most iconic features of the historic district is the Via Domitia, an ancient Roman road that passed through Narbonne. Remnants of this road can still be seen, including a section known as the "Chaussée romaine," which is paved with large stone slabs.
The Place de l'Hôtel de Ville is surrounded by historical buildings, including the Hôtel de Ville itself, a magnificent 18th-century building. The square is lively, with cafes and restaurants where you can relax and soak in the friendly atmosphere.
The Rue Droite, which extends from the Place de l'Hôtel de Ville, is another significant street in the historic district. It is lined with old houses and quaint shops where you can find local products and souvenirs.
The Les Halles market is also a must-visit location in the historic district. It is a vibrant covered market where you can purchase fresh produce such as fruits, vegetables, meat, fish, and local specialties. It's an excellent place to discover the gastronomy of the region.
The Palais Neuf, which houses the Narbonne Museum of Art and History, is another notable building in the historic district. The museum offers a diverse collection of artwork and historical artifacts, tracing the history of Narbonne from the Roman era to the present day.
While exploring the historic district of Narbonne, you can also discover beautiful churches, charming squares, and colorful facades. It's a perfect place for strolling, taking photographs, and experiencing the authentic atmosphere of the city.
In summary, the historic district of Narbonne is a neighborhood full of charm, with its cobblestone streets, historical buildings, and lively ambiance. It offers an opportunity to immerse yourself in the city's history, discover its architectural heritage, and enjoy the friendly atmosphere of the bustling alleys.
Enjoy the beaches from Narbonne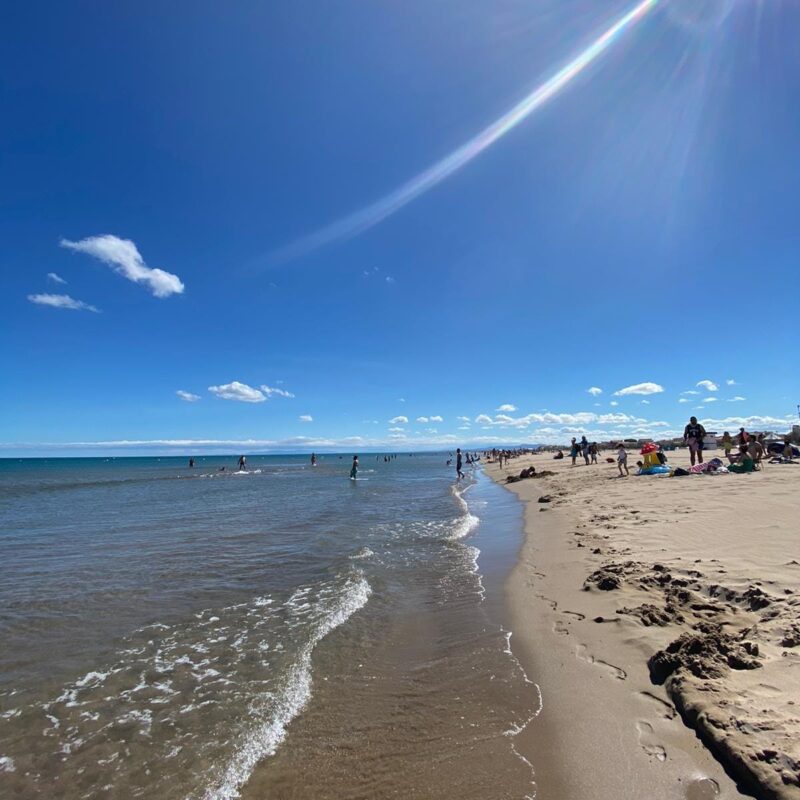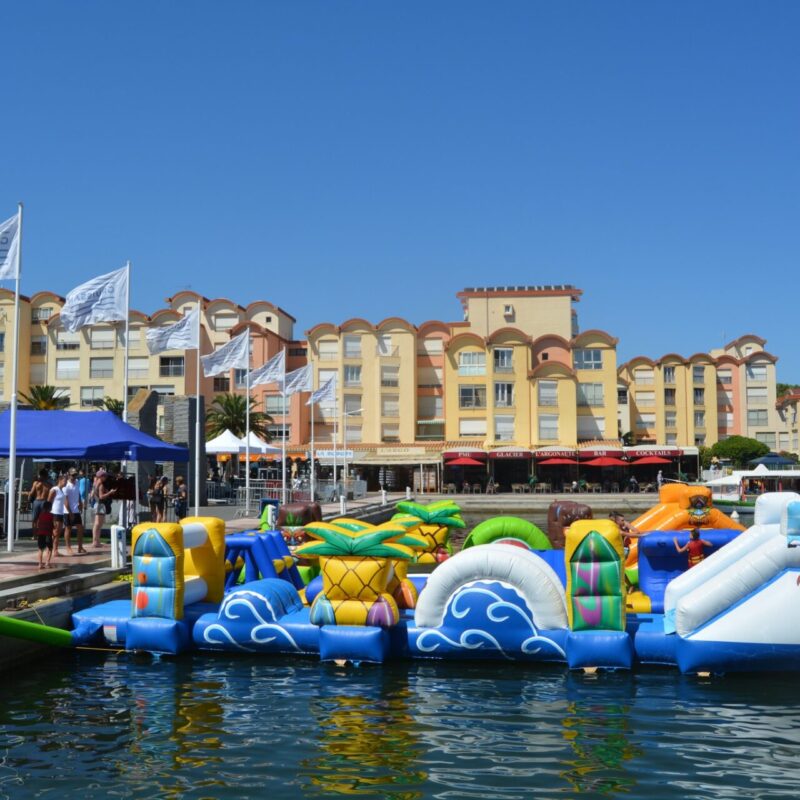 Narbonne is fortunate to have several beautiful beaches in its vicinity, providing visitors and locals with the opportunity to enjoy the sun, sand, and sea. Two notable beaches near Narbonne are Narbonne Plage and Gruissan Plage.
Narbonne Plage is a popular seaside resort located about 15 kilometers from the city center. It stretches for several kilometers along the coastline, offering wide expanses of fine sandy beaches. During the summer season, the beach is supervised, ensuring safety for swimmers and providing a pleasant environment for beach activities. Visitors can rent beach chairs and umbrellas, relax under the sun, and take refreshing dips in the Mediterranean Sea.
Narbonne Plage also offers various amenities and activities for visitors. You can find restaurants, cafes, ice cream parlors, and shops, making it a lively spot for relaxation and entertainment. Water sports enthusiasts can indulge in activities such as windsurfing, kiteboarding, and jet skiing, among others.
Gruissan Plage is another attractive beach near Narbonne, located about 20 kilometers away. It features a diverse landscape with sandy stretches, dunes, and lagoons. The beaches of Gruissan provide a natural and unspoiled setting for beachgoers to enjoy. The area is well-equipped with facilities such as beachside restaurants, beach bars, water sports clubs, and equipment rental centers. Visitors can swim, sunbathe, practice water sports, or take leisurely walks along the coastline to soak in the panoramic views.
Both Narbonne Plage and Gruissan Plage offer visitors a chance to relax, unwind, and enjoy the pleasures of the Mediterranean. Whether you want to take a refreshing swim, indulge in water sports, or simply soak up the sun on the sandy shores, these beaches provide a memorable coastal experience near Narbonne.
Visit Narbonne France : Taste Local Products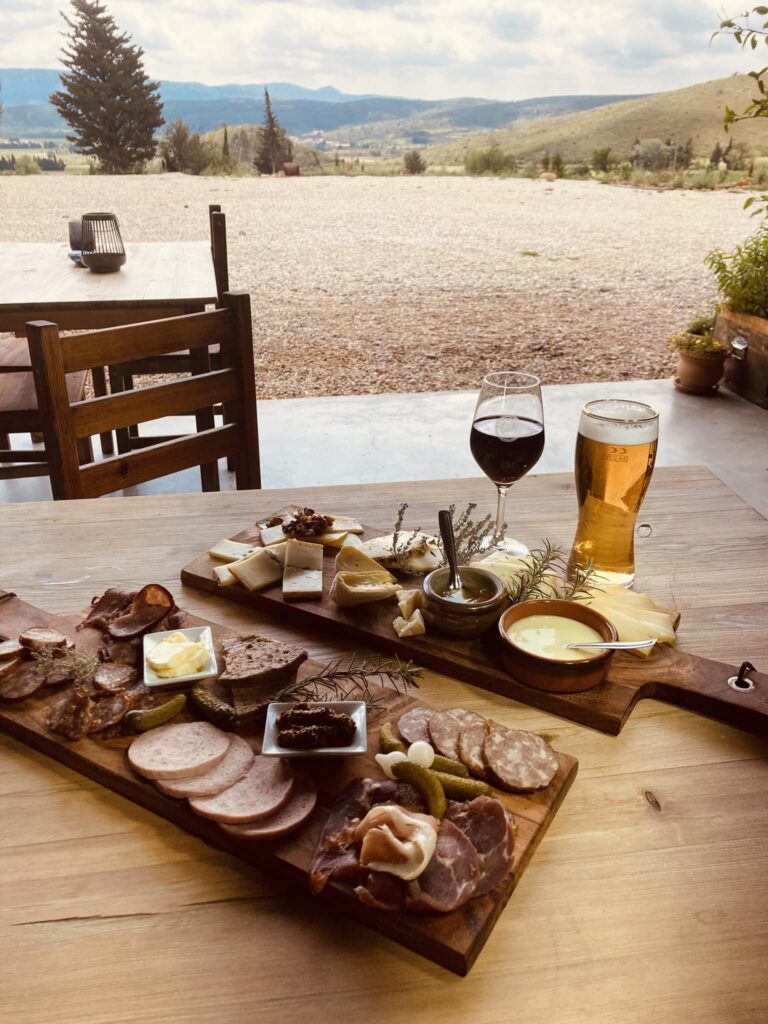 Narbonne, located in the Occitania region of France, is known for its rich culinary heritage and the abundance of local products. Here are some of the local products from Narbonne and the wider Occitania region:
Wine: The region around Narbonne is renowned for its vineyards and wine production. You can find a variety of wines, including reds, whites, and rosés. The wines of Corbières, Fitou, Minervois, and Côtes du Roussillon are particularly popular.

Olives: The Occitania region is known for its olive groves, producing high-quality olives and olive oil. You can find a range of olives, both green and black, with different flavors and textures.

Seafood: With its proximity to the Mediterranean Sea, Narbonne offers an abundance of fresh seafood. Look out for oysters, mussels, clams, shrimp, squid, and various fish varieties. These can be enjoyed in local seafood restaurants or purchased from fish markets.

Honey: Occitania is known for its diverse flora, which contributes to the production of flavorful honey. The region produces a range of honey varieties, including lavender, chestnut, thyme, and wildflower honey.

Charcuterie: The Occitania region is famous for its charcuterie products, such as sausages, cured meats, and pâtés. Look out for specialties like saucisson sec, jambon de Bayonne, and foie gras.

Cheeses: Occitania produces a variety of delicious cheeses. Roquefort, a world-renowned blue cheese, is made in the region, along with other regional favorites like Cabécou, Tomme des Pyrénées, and Pélardon.

Canal du Midi products: The Canal du Midi, which passes through Narbonne, is a UNESCO World Heritage site. Along its banks, you can find products such as local wines, jams, preserves, and other artisanal goods produced by local communities.
These are just a few examples of the local products from Narbonne and the wider Occitania region. Exploring local markets, specialty shops, and restaurants will provide you with an opportunity to discover and savor the authentic flavors of the area.