Visit Burgundy France  : 5 must-sees
Burgundy, a picturesque region nestled in the heart of France, is renowned for its exquisite wines, rich history, and charming countryside. The region is celebrated worldwide for producing some of the finest Pinot Noir and Chardonnay wines, making it a haven for wine enthusiasts. The meticulously tended vineyards stretch across rolling hills, where centuries of winemaking traditions have been passed down through generations. Burgundy's wine culture is deeply ingrained in its identity, with renowned appellations like Côte d'Or and Chablis contributing to its stellar reputation.
Beyond its vineyards, Burgundy is steeped in history and architectural beauty. The capital city, Dijon, boasts a well-preserved medieval center, showcasing stunning Gothic and Renaissance architecture. Visitors can explore historic towns like Beaune, known for its charming cobbled streets and the famous Hospices de Beaune, a 15th-century hospital turned museum. Burgundy also offers picturesque landscapes, with serene canals, dense forests, and tranquil lakes, making it an ideal destination for outdoor enthusiasts. Whether you're savoring world-class wines or immersing yourself in its rich heritage, Burgundy invites you to experience the quintessential charm of French culture.
Visit Burgundy France : the Hospices of Beaune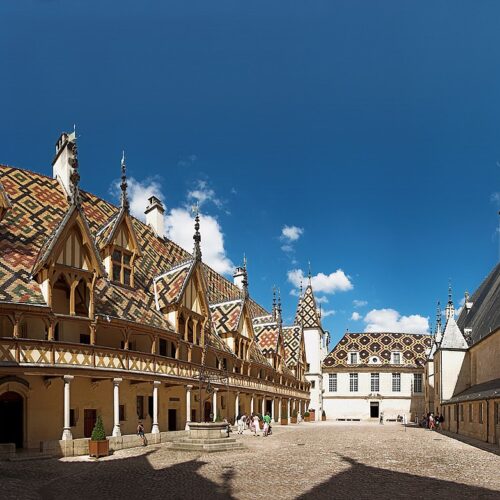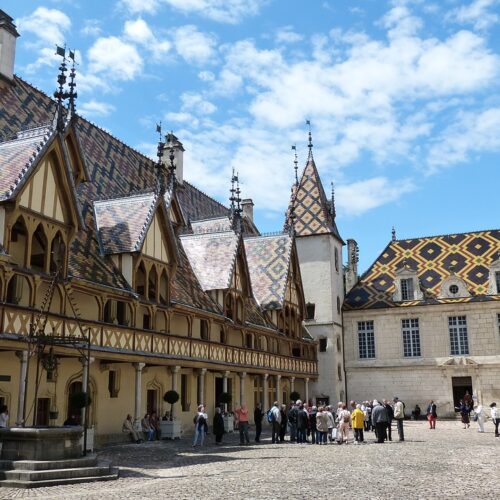 Visiting the Hospices de Beaune, also known as the Hôtel-Dieu de Beaune, is a must when exploring the beautiful town of Beaune in the Burgundy region of France. This historic monument is an architectural gem that offers insight into the region's rich history and medieval charitable institutions.
The Hospices de Beaune was founded in 1443 by Nicolas Rolin, the Chancellor of Burgundy, and his wife, Guigone de Salins, as a hospital for the poor and needy. The building itself is a stunning example of Burgundian-Flemish architecture with its distinctive colorful tiled roof and intricate Gothic and Renaissance details. Inside, you'll find the Salle des Pôvres (Room of the Poor), a beautifully preserved room where the sick were once cared for. The room features a stunning polychrome ceiling and rows of wooden beds, providing a glimpse into the compassionate care that was provided here centuries ago.
One of the highlights of the visit is the opportunity to see the polyptych altarpiece "The Last Judgment" by Flemish artist Rogier van der Weyden, which is displayed in the Hospices' chapel. The Hospices also has a fascinating wine cellar that you can explore, showcasing the history of winemaking in Burgundy and its connection to the institution's charitable work.
Today, the Hospices de Beaune is not only a historical landmark but also famous for hosting an annual charity wine auction, the Hospices de Beaune Wine Auction, in November. This auction features the sale of wine from the Hospices' vineyards, and the proceeds go to charitable causes, carrying on the institution's tradition of philanthropy. When visiting Beaune and the Hospices de Beaune, you'll not only admire its architectural beauty but also gain insight into the region's culture, history, and the enduring legacy of compassion that has been an integral part of Burgundy for centuries.
Visit Burgundy France : Book your Private Tour Guide in Beaune
 Visit Burgundy France : Dijon, the capital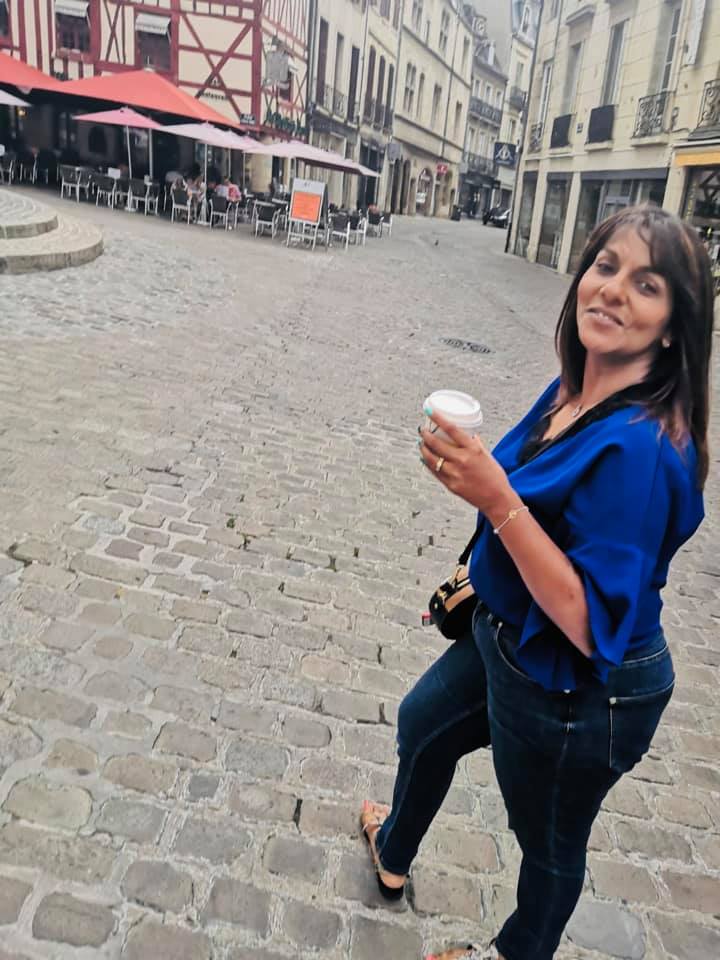 The historic district of Beaune, located in the heart of the Burgundy region in eastern France, is a captivating destination that transports visitors back in time. Steeped in centuries of history, this area is characterized by well-preserved medieval architecture, cobblestone streets, and a rich cultural heritage.
At the heart of the historic district lies the iconic Hospices de Beaune, a 15th-century charitable hospital founded by Nicolas Rolin, Chancellor to the Duke of Burgundy, and his wife, Guigone de Salins. This architectural masterpiece is renowned for its striking Burgundian-Flemish design, featuring colorful, glazed-tile roofs and intricate stone carvings. While initially established to provide healthcare to the less fortunate, the Hospices de Beaune now operates as a museum, offering a captivating glimpse into the region's past, complete with a collection of art, historical medical equipment, and a sense of the hospital's charitable origins.
Wandering through the historic district, visitors will encounter charming town squares, such as the Place Carnot, lined with cafes and boutiques. The district is also home to several other notable landmarks, including the Collégiale Basilica of Notre-Dame, a stunning example of Gothic architecture, and the town's medieval walls and watchtowers that once provided defense against invaders. Beaune's rich cultural heritage is further celebrated through various festivals and events held throughout the year, making it a must-visit destination for those seeking to immerse themselves in the history and ambiance of this enchanting French town.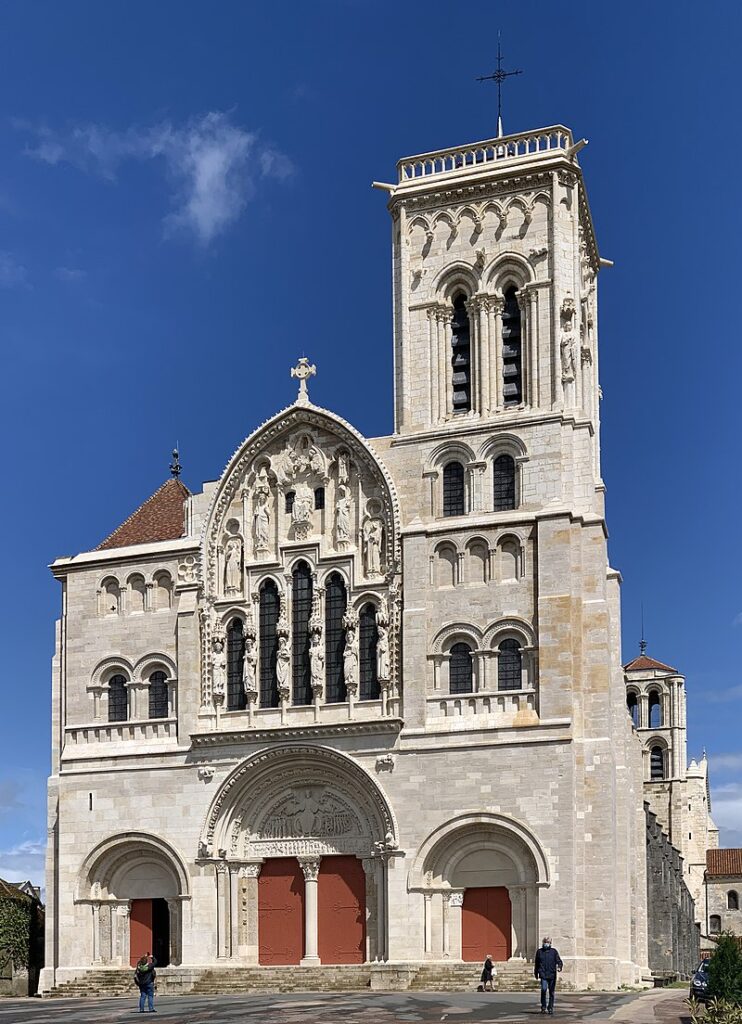 Vézelay, a picturesque village nestled in the Burgundy region of France, is a place of remarkable beauty, historical significance, and spiritual importance. Visiting Vézelay is like stepping back in time to a place where history, culture, and natural beauty converge.
Begin your visit at the heart of the village with a stop at the Basilica of Sainte-Marie-Madeleine, a UNESCO World Heritage Site. This stunning Romanesque church is renowned for its remarkable architecture, intricate sculptures, and its role as a starting point for pilgrimages along the Way of St. James to Santiago de Compostela. The interior is equally captivating, featuring a peaceful nave and magnificent stained glass windows.
As you wander through Vézelay's narrow, cobbled streets, you'll encounter charming cafes, galleries, and artisan shops. The village's quaint atmosphere is perfect for leisurely strolls and exploring its medieval architecture, including half-timbered houses and stone facades.
For panoramic views of the surrounding countryside, hike up to the hilltop viewpoint overlooking Vézelay. The landscape is dotted with vineyards, forests, and the winding River Cure, providing a serene backdrop to the village below.
Vézelay is also renowned for its cultural events and festivals, so if your visit coincides with one, be sure to partake in the festivities. The village's vibrant cultural scene often includes concerts, art exhibitions, and traditional celebrations.
Lastly, indulge in Burgundy's culinary delights at one of the village's charming restaurants, where you can savor local wines, cheeses, and dishes infused with the region's gastronomic heritage.
Vézelay's unique blend of spirituality, history, and natural beauty makes it a captivating destination for travelers seeking a glimpse into the rich cultural tapestry of Burgundy and France. Whether you're exploring its medieval treasures, basking in its serene landscapes, or simply enjoying the tranquility of this charming village, Vézelay offers a memorable and meaningful experience.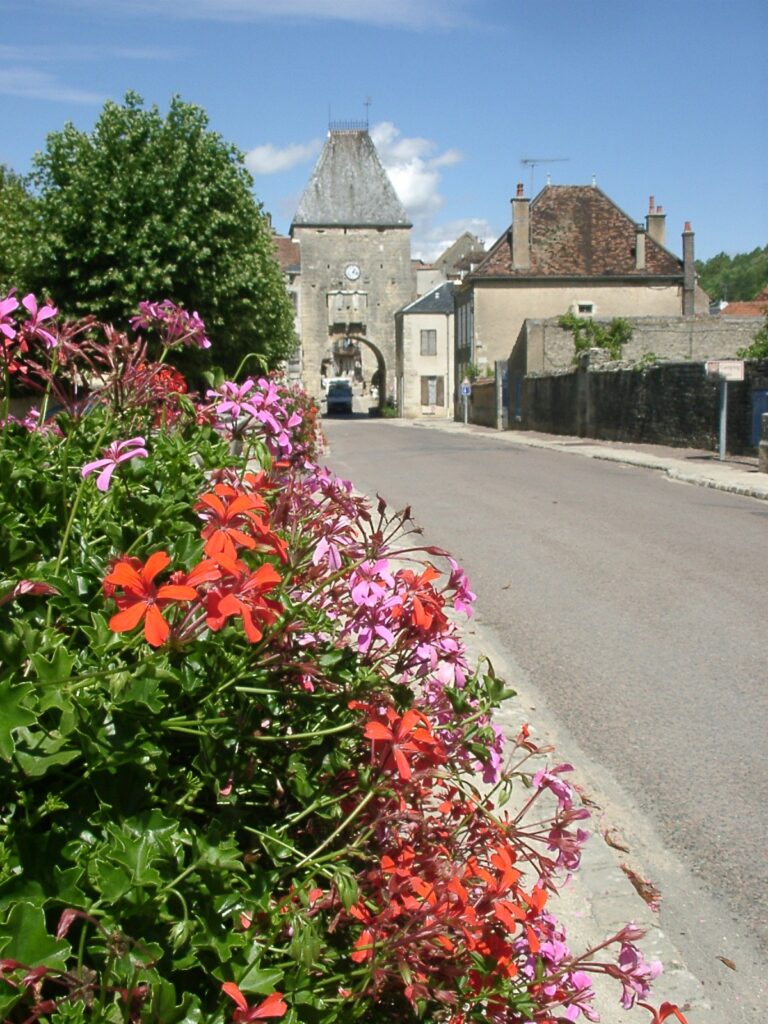 Noyers-sur-Serein is a quintessential medieval village located in the Burgundy region of France. Nestled alongside the serene Serein River, this well-preserved gem offers visitors a glimpse into the past with its picturesque streets, charming architecture, and rich historical heritage.
Start your visit in the heart of Noyers-sur-Serein at the Place de l'Hôtel de Ville, a delightful square surrounded by half-timbered houses adorned with colorful flowers. The Hôtel de Ville (Town Hall) itself is a stunning example of Renaissance architecture. Stroll along the village's cobblestone streets, where every corner reveals new surprises, from ivy-covered facades to quaint artisan boutiques.
One of the highlights of Noyers-sur-Serein is its well-preserved medieval fortifications. The village is surrounded by a protective wall, and you can walk along its ramparts for panoramic views of the surrounding countryside. Don't miss the picturesque arched bridge that crosses the Serein River, offering a postcard-worthy view of the village reflected in the water.
The Church of Saint-Médard is another must-visit. This Gothic church features impressive stained glass windows and a serene atmosphere that provides insight into the village's spiritual history.
Noyers-sur-Serein is known for its cultural events, including art exhibitions and music festivals. If your visit coincides with one of these events, it's a great opportunity to experience the village's vibrant cultural scene.
For those interested in local gastronomy, explore the village's restaurants and cafes, where you can savor Burgundy's culinary delights, including regional wines, cheeses, and traditional dishes.
In Noyers-sur-Serein, time seems to stand still, allowing you to immerse yourself in the charm of a medieval French village. Whether you're admiring its historic architecture, enjoying a leisurely walk along the river, or savoring the flavors of Burgundy, Noyers-sur-Serein offers a serene and enchanting experience that captures the essence of rural France.
Visit Burgundy France : Meursault and its wineries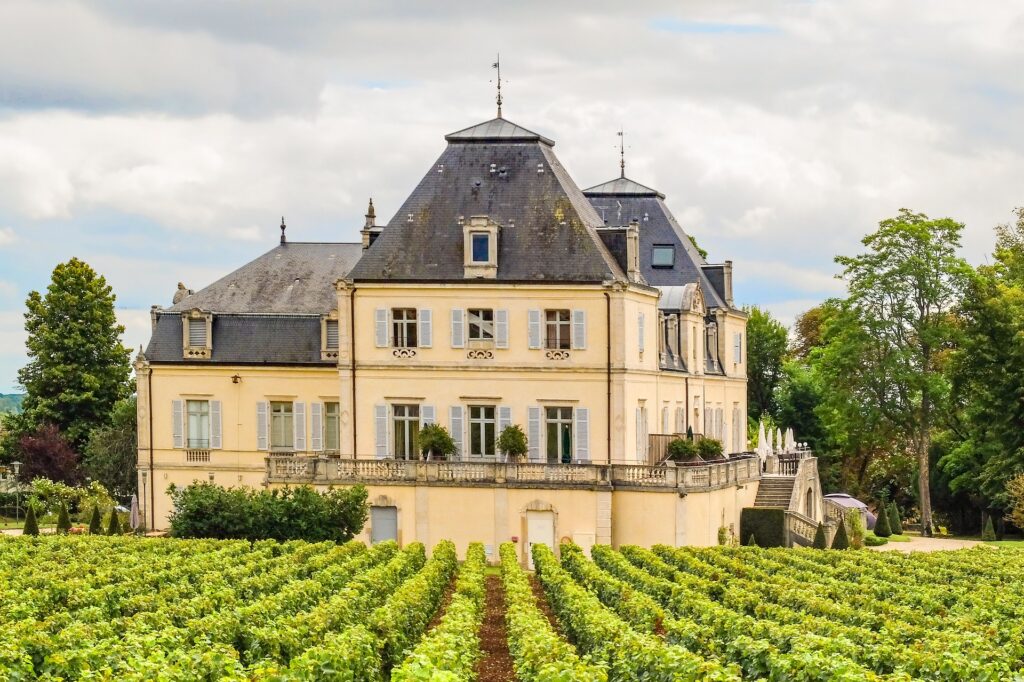 Meursault, a delightful village in the heart of Burgundy's Côte de Beaune wine region, is renowned for its exceptional Chardonnay wines, charming architecture, and warm hospitality. A visit to Meursault offers an opportunity to immerse yourself in the world of Burgundian winemaking and savor the rich cultural heritage of this picturesque village.
Begin your exploration in the village center, where you'll find the beautiful Place de l'Hôtel de Ville, a charming square surrounded by 17th-century buildings. The Hôtel de Ville (Town Hall) itself is a fine example of Burgundian architecture. Stroll along the cobblestone streets lined with wine cellars, wine boutiques, and local bistros. Meursault is famous for its white wines, so be sure to sample some of the region's finest Chardonnays at one of the many wineries or wine tasting rooms in the area.
A visit to the historic Château de Meursault is a must. This elegant château houses a prestigious winery, and you can take guided tours to learn about the winemaking process and sample their wines. The château's picturesque gardens are perfect for a leisurely stroll.
For a deeper understanding of the region's wine culture, consider exploring the Clos des Perrières, a famous vineyard in Meursault known for its premier cru wines. You may also want to visit other nearby wineries and vineyards to fully appreciate the diversity of Burgundian wines.
Meursault is not just about wine; it's also known for its gastronomy. Indulge in a meal at one of the village's restaurants, where you can pair local dishes with Meursault wines. Classic Burgundian dishes such as coq au vin and escargot are often featured on the menus.
The village's serene and picturesque surroundings also invite you to take leisurely walks or bike rides through the vineyards and enjoy the scenic beauty of the Burgundian countryside.
A visit to Meursault in the Burgundy region is a journey into the heart of wine culture and French village life. Whether you're a wine enthusiast, a lover of history and architecture, or simply seeking a tranquil escape in the French countryside, Meursault offers a delightful and memorable experience.