Le Marais Paris : a charming district !
Le Marais, nestled in the heart of Paris across the 3rd and 4th arrondissements, is an enchanting neighborhood that encapsulates the city's vibrant past and contemporary charm. Once a marshland transformed by medieval nobility into an aristocratic haven, it now boasts a rich tapestry of history evident in its stunning architectural diversity. Cobblestone streets wind around elegant 17th-century mansions, housing both Parisian history museums like Musée Carnavalet and artistic treasures like the Musée Picasso. The ambiance is a fusion of cultures, where the LGBTQ+ community thrives alongside trendy boutiques, inviting cafes, and art galleries, creating an atmosphere that effortlessly blends tradition with modernity.
This cultural haven isn't just a treat for history buffs; it's a paradise for food enthusiasts and fashionistas alike. Le Marais offers an eclectic gastronomic journey, from traditional French bistros serving up delectable delicacies to avant-garde eateries exploring international flavors. The streets are lined with fashion boutiques ranging from vintage treasures to cutting-edge designer labels, catering to every style palate. Its vibrant mix of history, culture, and lifestyle makes Le Marais an irresistible destination, drawing visitors who seek to immerse themselves in the essence of Parisian flair and sophistication.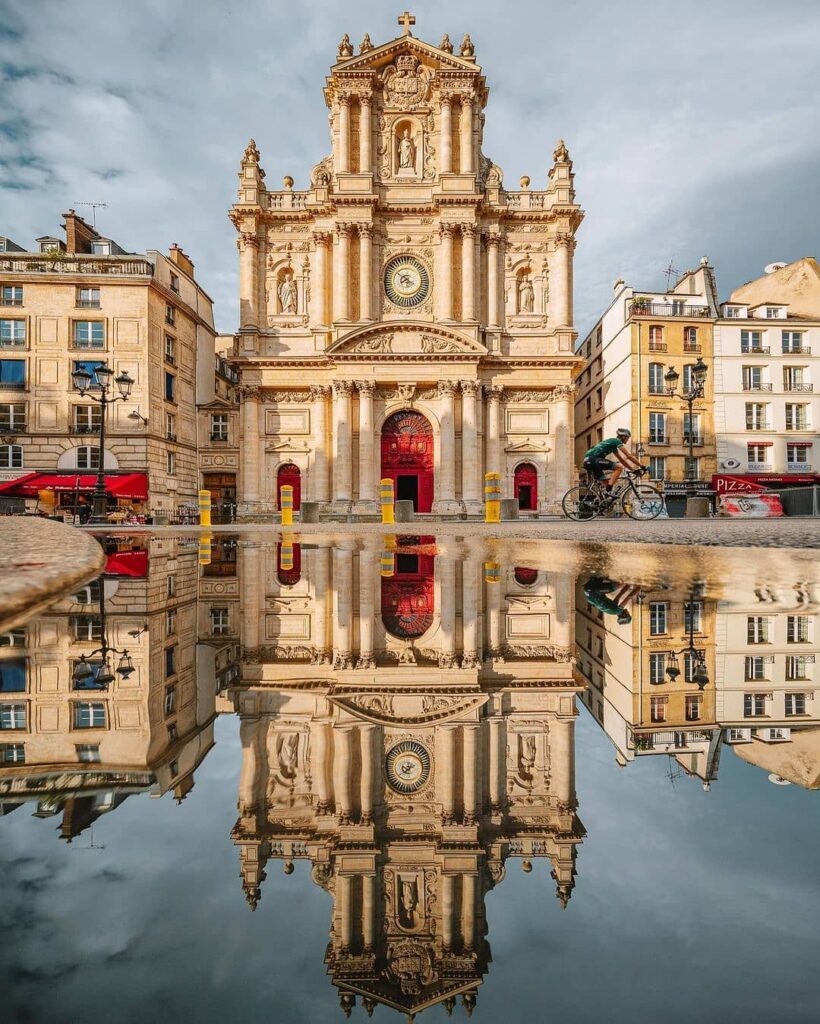 The Place des Vosges, an exquisite gem nestled within the vibrant tapestry of Le Marais, stands as an architectural masterpiece and historical treasure in the heart of Paris. Enclosed by a symmetrical array of elegant red-brick buildings adorned with classic stone arcades, this square exudes an air of timeless elegance that transports visitors to a bygone era. Dating back to the early 17th century, it holds the distinction of being the oldest planned square in the city, once known as Place Royale in honor of Louis XIII's marriage to Anne of Austria.
The square's allure lies not only in its harmonious architecture but also in its tranquil ambiance. Lush gardens, perfectly manicured lawns, and charming fountains create a serene retreat amid the bustling city. Strolling along its pathways, visitors can bask in the beauty of the symmetrically aligned trees or find a peaceful moment on one of the inviting benches, surrounded by the echoes of history.
Beyond its visual splendor, the Place des Vosges serves as a cultural nucleus within Le Marais. Its perimeter houses art galleries that showcase contemporary works, inviting cafes that offer respite to both locals and tourists, and boutiques that add a touch of modernity to this historic setting. This captivating square is not merely a tourist attraction; it's a living canvas that seamlessly blends history, art, and the essence of Parisian life.
Shopping at Le Marais Paris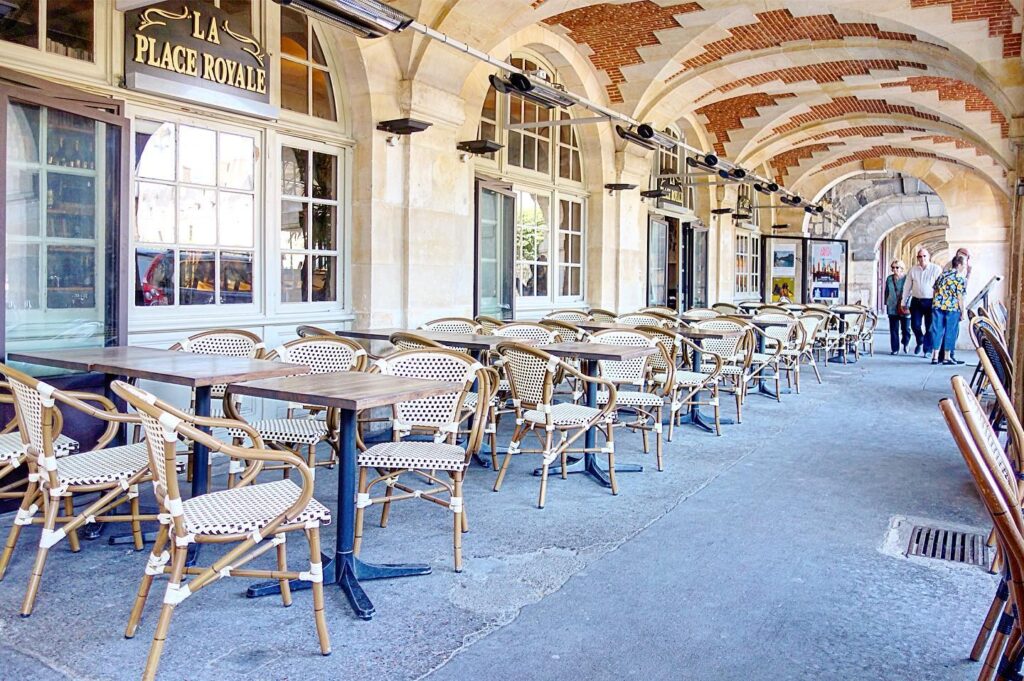 Le Marais in Paris is a shopaholic's dream, a district that seamlessly blends history with an eclectic shopping experience. Its winding streets are lined with an array of boutiques, from high-end fashion houses to vintage stores and concept shops. Rue des Francs-Bourgeois, a bustling thoroughfare, stands out as a shopping haven, offering an assortment of trendy fashion boutiques, designer stores, and chic galleries. Here, fashion enthusiasts can find everything from renowned French brands to emerging local designers, catering to diverse tastes and styles.
Beyond fashion, Le Marais boasts a diverse shopping scene that extends to unique specialty stores. Visitors can explore artisanal chocolatiers, perfumeries crafting bespoke scents, antique dealers offering rare finds, and art galleries showcasing contemporary works. The Marché des Enfants Rouges, Paris's oldest covered market, adds a delightful twist to the shopping experience, housing stalls selling gourmet delights, fresh produce, and international cuisines—an ideal spot to savor flavors from around the world.
The charm of shopping in Le Marais lies not just in the variety of offerings but also in the ambiance. The district's historic architecture serves as a captivating backdrop, with boutiques often nestled within centuries-old buildings. Whether hunting for the latest fashion trends, seeking unique souvenirs, or simply wandering through the labyrinthine streets, Le Marais offers a shopping experience that seamlessly merges Parisian chic with a touch of artistic flair.