Visit Biarritz France : 3 must-sees !
Biarritz, nestled along the southwestern coast of France, is a picturesque seaside town renowned for its elegant charm and natural beauty. With its stunning Atlantic Ocean backdrop, Biarritz has been a beloved destination for surfers and beach enthusiasts for decades. The town's golden sandy beaches stretch along the rugged coastline, providing the perfect setting for sunbathing and water sports. Beyond its coastal allure, Biarritz boasts a rich history and architectural beauty, with grand belle époque hotels and quaint Basque-style buildings lining its streets. Visitors can explore the town's vibrant food scene, indulging in delicious Basque cuisine at local restaurants, and enjoy its thriving cultural scene with museums and art galleries.
Biarritz is not only a coastal gem but also a hub for wellness and relaxation. The town is renowned for its thermal spas, where visitors can unwind and rejuvenate in the soothing thermal waters. Additionally, Biarritz offers a unique blend of Basque culture and French sophistication, evident in its lively markets, where you can savor regional specialties, such as delicious cheese and cured ham. Whether you're a nature enthusiast, a foodie, a history buff, or simply seeking a tranquil beach escape, Biarritz's diverse offerings make it a captivating destination on the French Atlantic coast.
Do not hesitate to contact us for a guided tour or a tailor-made excursion, by consulting our catalogue or by writing us at contact@guides-france.com.
La Grande Plage – The Beaches from Biarritz France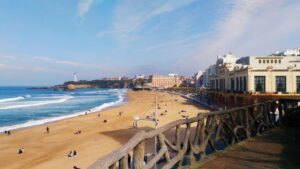 "La Grande Plage de Biarritz" translates to "The Great Beach of Biarritz" in English. This beautiful stretch of sandy shoreline is one of the most famous and iconic beaches in Biarritz, France. It is renowned for its stunning views of the Atlantic Ocean and is a popular destination for sunbathers, swimmers, surfers, and beachgoers from around the world. With its picturesque setting and proximity to the town center, La Grande Plage de Biarritz is a must-visit spot for anyone exploring this coastal town.
The Food Market – Les Halles de Biarritz France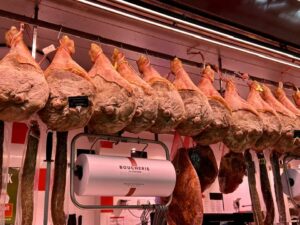 Les Halles de Biarritz is a vibrant and bustling covered market located in the heart of Biarritz, France. This market is a food lover's paradise, offering an array of fresh and high-quality local produce, seafood, meats, cheeses, pastries, and a variety of gourmet delights. The market is not only a place to shop for fresh ingredients but also a cultural experience where locals and tourists alike come together to savor the flavors of the Basque Country.
Inside Les Halles, you'll find numerous stalls and vendors selling everything from freshly caught seafood to artisanal cheeses, charcuterie, spices, wines, and more. It's a fantastic place to explore and discover the rich culinary traditions of the region. Visitors can also enjoy a meal at one of the market's many restaurants and food stands, offering delectable dishes prepared with the freshest ingredients available. Les Halles de Biarritz is not just a market; it's a gastronomic destination that provides a true taste of the Basque culture and cuisine.
Taste Local Products from Biarritz France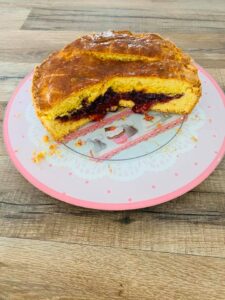 Biarritz and the surrounding Basque region are known for their rich culinary traditions and a variety of delicious local products. Here are some of the notable local products you can find in Biarritz:
Bayonne Ham (Jambon de Bayonne): This dry-cured ham is one of the region's most famous delicacies. It is typically aged for several months and has a distinct, savory flavor.

Espelette Pepper (Piment d'Espelette): These small, red peppers are grown in the nearby town of Espelette. They are dried and ground into a mildly spicy powder that adds flavor to many Basque dishes.

Basque Cheese: The Basque Country produces a variety of delicious cheeses, including Ossau-Iraty (a sheep's milk cheese) and Etorki (a creamy sheep's milk cheese). These cheeses are often enjoyed with fresh bread or used in traditional recipes.

Piquillos Peppers: Piquillo peppers are small, sweet, and slightly spicy red peppers that are often roasted and peeled. They are a popular ingredient in Basque cuisine, used in salads, stuffed with seafood or cheese, and more.

Basque Cider: The region produces some excellent apple ciders, both still and sparkling. Basque cider is known for its crisp and refreshing taste and pairs well with Basque dishes.

Basque Chocolate: Basque chocolatiers are renowned for their high-quality chocolates. You can find artisanal chocolate shops in Biarritz offering a wide range of chocolate creations.

Local Seafood: Biarritz's location on the Atlantic coast makes it a seafood paradise. You can enjoy fresh catches such as anchovies, sardines, sea bass, and, of course, the famous Basque seafood stew known as "Marmitako."

Basque Cake (Gateau Basque): This traditional dessert is a buttery pastry filled with either almond cream or black cherry jam. It's a delightful treat to savor with a cup of coffee.

Basque Wine: While not as well-known as some other French wine regions, the Basque Country produces some excellent wines, both red and white, often made from local grape varieties like Tannat and Gros Manseng.
When visiting Biarritz, exploring the local markets and specialty food shops is a great way to discover and savor these delicious Basque products, which are an integral part of the region's culinary heritage.