Visit Bastia Corsica : The unmissable places !
With its rich history, stunning landscapes, and vibrant culture, Bastia is a true gem waiting to be explored.
Located on the northeastern coast of Corsica, Bastia serves as the principal commercial and economic hub of the island. It is the second-largest city in Corsica and offers a unique blend of old-world charm and modern amenities.
One of the highlights of Bastia is its picturesque Old Town, known as Terra Vecchia. Here, narrow cobblestone streets wind through ancient buildings, inviting you to wander and discover hidden corners. The charming pastel-colored houses add to the enchanting atmosphere, while the lively squares and bustling markets create a vibrant and welcoming ambiance.
The city's historic heart is the Vieux Port, a bustling marina where fishing boats and yachts coexist. It's a perfect spot to sit back, relax, and soak in the Mediterranean atmosphere. From here, you can enjoy breathtaking views of the sea and the surrounding mountains.
Bastia is also home to several noteworthy landmarks. The imposing Saint Mary's Church, perched on a hill overlooking the city, is a magnificent sight. Its baroque architecture and ornate interior are truly captivating. Another must-visit is the Governor's Palace, an 18th-century building that now houses the Museum of Bastia, where you can delve into the city's fascinating history.
For those seeking a cultural experience, Bastia offers a variety of events and festivals throughout the year. The Feast of Saint John, held in June, is a lively celebration filled with music, dancing, and traditional customs. In July, the city hosts the Festival Porto Latino, a renowned music festival that attracts both local and international artists.
Nature lovers will find their paradise in Bastia as well. The city is surrounded by stunning landscapes, including rugged mountains, pristine beaches, and picturesque vineyards. A short drive from the city will take you to Cap Corse, a wild and unspoiled peninsula known for its dramatic cliffs, charming villages, and panoramic views.
In terms of gastronomy, Bastia boasts a diverse culinary scene that showcases the island's flavors. You can savor fresh seafood delicacies, sample local charcuterie, and indulge in the renowned Corsican wines. Don't forget to try the famous chestnut-based products, such as honey, beer, and flour, which are specialties of the region.
In conclusion, Bastia offers a captivating blend of history, culture, and natural beauty. Whether you're strolling through its ancient streets, admiring the coastal scenery, or immersing yourself in its vibrant atmosphere, this Corsican city will leave an indelible mark on your heart.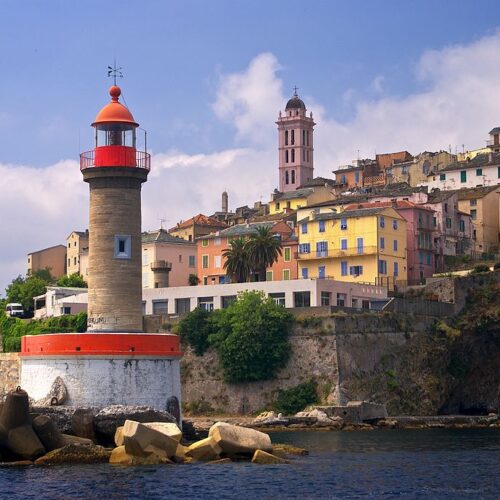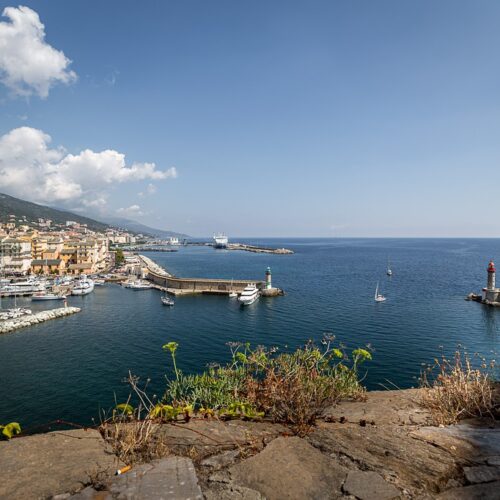 Visit Bastia Corsica : book your Tour with a specialist !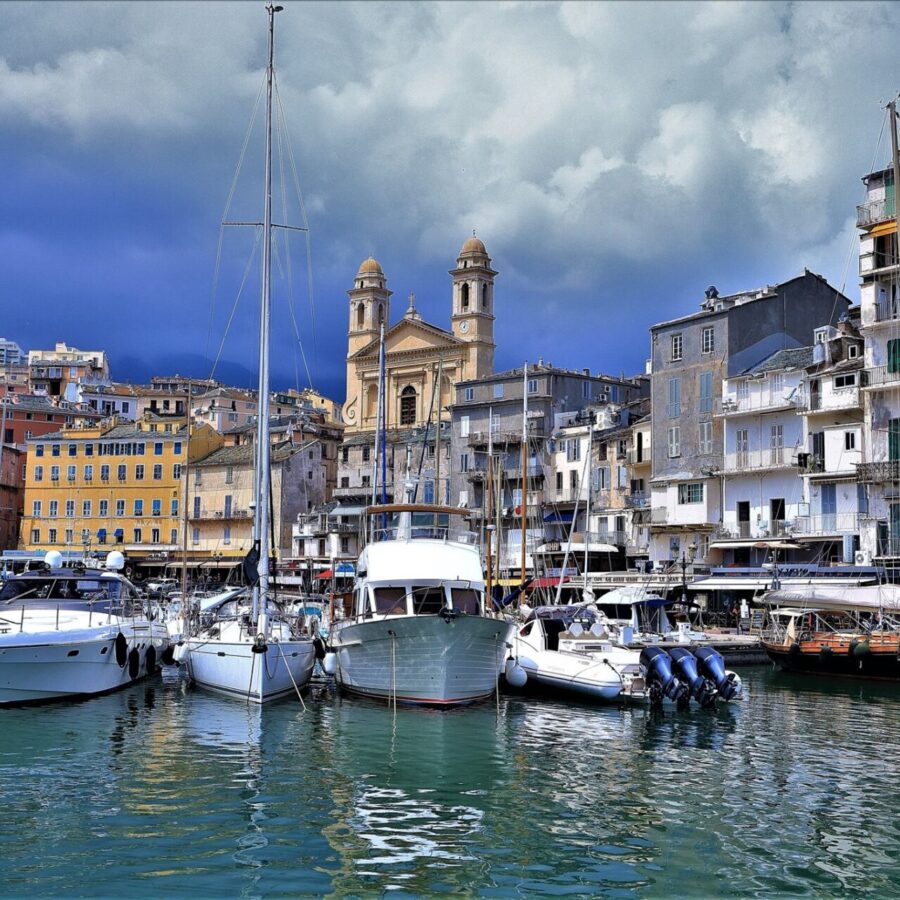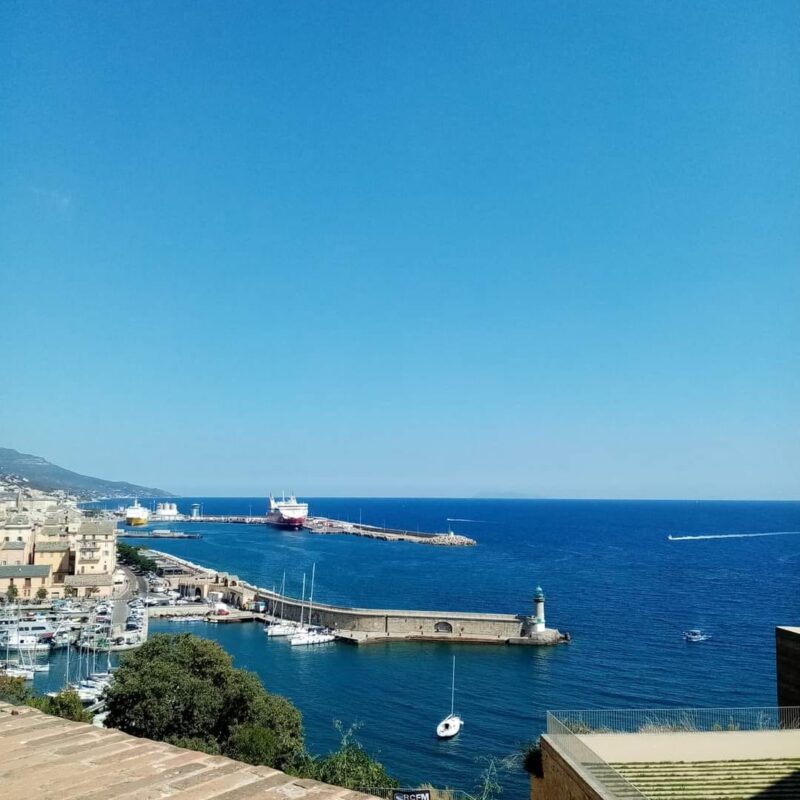 The Old Port of Bastia is undoubtedly one of the city's most captivating features. Situated in the heart of Bastia, it serves as a focal point for both locals and visitors alike. With its vibrant atmosphere, picturesque surroundings, and historical significance, the Old Port is a must-see destination.
The Old Port, known as Vieux Port in French, has been the bustling center of maritime activity in Bastia for centuries. It has played a crucial role in the city's development and continues to be a vibrant hub of trade and leisure.
As you approach the Old Port, you'll be greeted by a picturesque scene of colorful buildings lining the waterfront. The facades of these buildings are adorned with vibrant hues, creating a lively and charming ambiance. These structures house a variety of restaurants, cafes, and shops, offering a delightful array of culinary delights and local products.
The port itself is a haven for maritime enthusiasts. You'll find a captivating mix of fishing boats, yachts, and pleasure crafts, all bobbing gently on the azure waters of the Mediterranean Sea. The sight of these vessels evokes a sense of adventure and invites you to embark on a maritime journey.
The Old Port is not just a place for boats; it's also a vibrant social hub. The quayside is lined with bustling cafes and restaurants, where you can enjoy a leisurely meal or a refreshing drink while taking in the captivating views. It's an ideal spot to people-watch, soak up the sun, or simply savor the relaxing coastal atmosphere.
From the Old Port, you can also explore the surrounding area on foot. As you stroll along the promenade, you'll encounter several notable landmarks. One such landmark is the Church of Saint-Jean-Baptiste, a beautiful 17th-century church that stands proudly overlooking the harbor. Its graceful architecture and serene atmosphere make it a popular spot for contemplation.
The Old Port is not just a daytime attraction; it also comes alive at night. The waterfront promenade is illuminated, creating a romantic and enchanting ambiance. The lively bars and restaurants buzz with activity, offering a vibrant nightlife scene for locals and visitors alike.
In conclusion, the Old Port of Bastia is a captivating destination that encapsulates the spirit of this Corsican city. With its charming waterfront, lively atmosphere, and stunning surroundings, it invites you to immerse yourself in its rich maritime history and experience the vibrant culture of Bastia.
Whether you're admiring the colorful buildings, enjoying a meal by the water's edge, or simply taking in the sights and sounds of the bustling port, the Old Port of Bastia offers an unforgettable experience that will leave a lasting impression.
So, make sure to include a visit to the Old Port on your itinerary when exploring Bastia, and let its undeniable charm and maritime allure captivate you.
Visit Bastia Corsica – Terra vecchia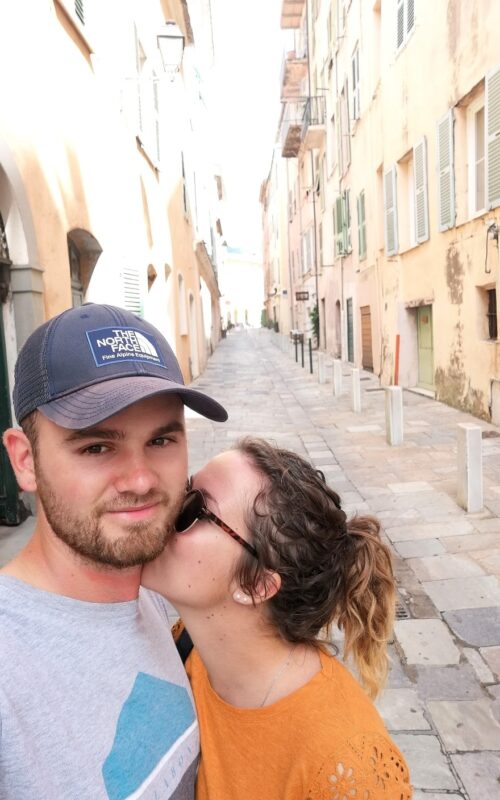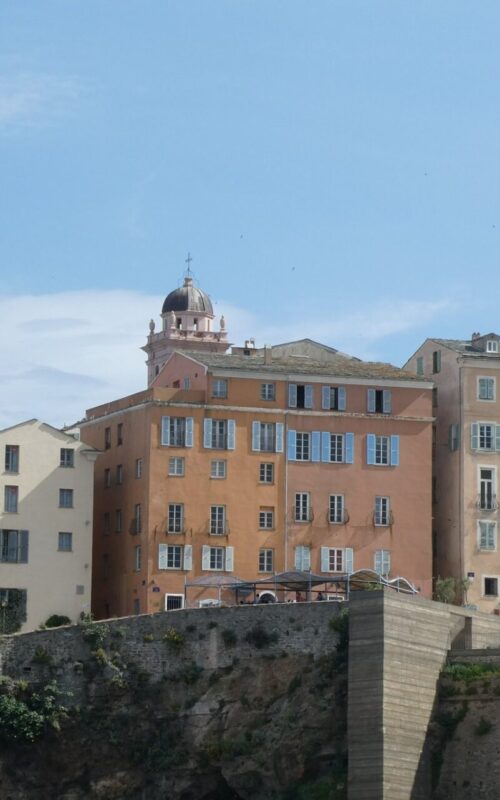 Terra Vecchia, or the Old Town of Bastia, is a captivating and historical neighborhood that forms the heart and soul of the city. With its narrow streets, charming architecture, and rich heritage, Terra Vecchia offers a glimpse into the past and a truly immersive cultural experience.
Located within the fortified walls of the old city, Terra Vecchia is a maze of winding cobblestone streets that beckon you to explore. As you wander through its ancient thoroughfares, you'll encounter a delightful array of pastel-colored buildings adorned with wrought-iron balconies and wooden shutters. The architecture reflects a mix of influences, blending Italian and French styles that have shaped the character of Bastia.
One of the main attractions in Terra Vecchia is the Place Saint-Nicolas, a vibrant square that serves as a focal point for socializing and events. Lined with cafes and restaurants, it's a perfect spot to relax, enjoy a drink, and observe the lively atmosphere. The square offers stunning views of the sea, with the Old Port and its boats in the distance, creating a picturesque backdrop.
Exploring further into Terra Vecchia, you'll discover numerous historical sites and landmarks. One of the notable attractions is the Saint Mary's Church, perched atop a hill overlooking the city. This baroque-style church dates back to the 16th century and boasts an ornate interior with impressive frescoes and sculptures. Its location offers panoramic views of Bastia and the surrounding landscape.
Terra Vecchia is also home to several museums that provide insights into Bastia's history and culture. The Museum of Bastia, located in the Governor's Palace, offers a journey through the city's past, showcasing artifacts, paintings, and interactive displays. The Corsica Museum, situated in an old governor's house, focuses on the island's unique heritage, traditions, and natural environment.
Beyond the historical and cultural attractions, Terra Vecchia is a vibrant neighborhood with a lively atmosphere. The streets are lined with artisan boutiques, traditional shops, and local markets, where you can find authentic Corsican products and souvenirs. From delicious local delicacies to handmade crafts, there's something to satisfy every taste.
To truly immerse yourself in the spirit of Terra Vecchia, consider visiting during one of Bastia's festivals or events. The Feast of Saint John, held in June, brings the neighborhood to life with traditional music, dancing, and processions. The annual Chestnut Festival, taking place in October, celebrates the island's famous chestnut harvest and offers a chance to sample various chestnut-based delicacies.
In conclusion, Terra Vecchia in Bastia is a captivating neighborhood that combines history, architecture, and a vibrant atmosphere. Its narrow streets, picturesque buildings, and cultural treasures invite you to step back in time and experience the essence of Corsican heritage. So, don't miss the opportunity to explore this enchanting part of Bastia and immerse yourself in the charm and history of Terra Vecchia.
The most beautiful beaches in Bastia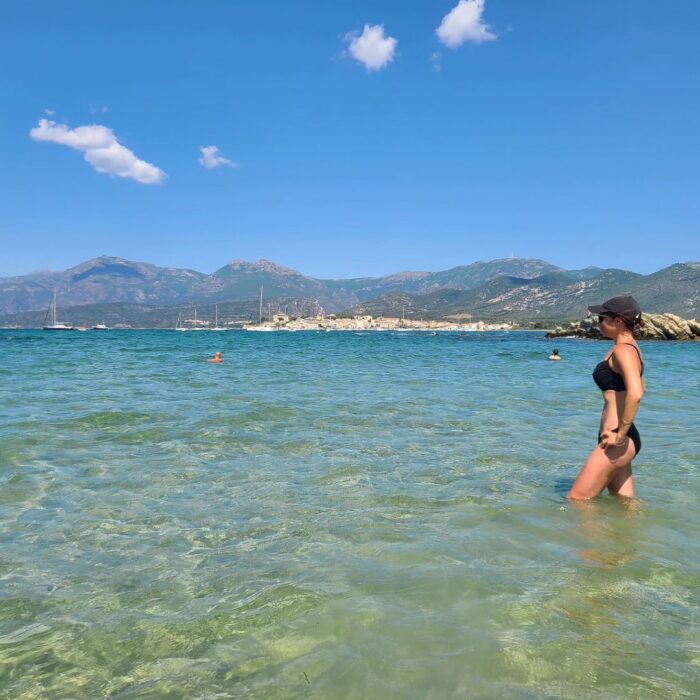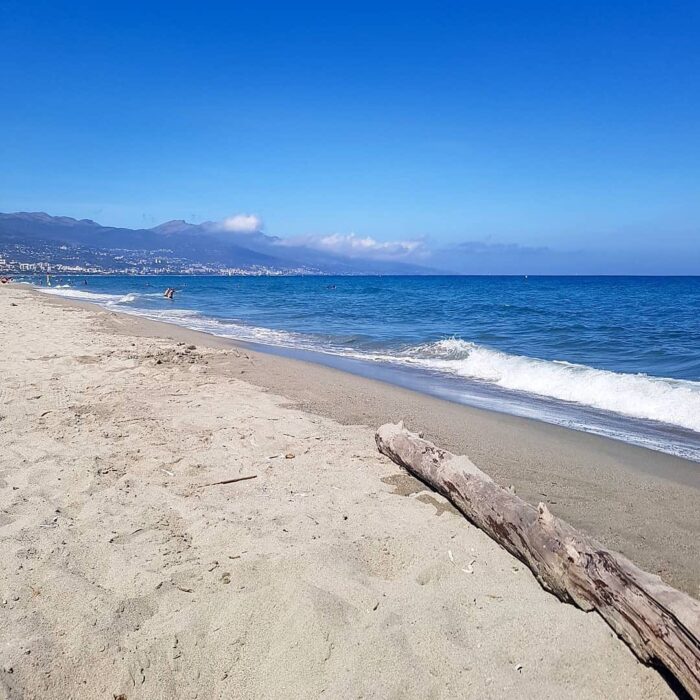 Bastia, although primarily known for its rich history and vibrant cityscape, also boasts some beautiful beaches along its coastline. Here are a few of the most notable beaches in the vicinity of Bastia:
Arinella Beach: Located just a short distance from the city center, Arinella Beach offers a picturesque sandy shoreline lined with clear turquoise waters. The beach is well-equipped with facilities such as restaurants, beach bars, and water sports activities, making it a popular spot for both locals and tourists.

L'Arinella de Marinella: Situated to the south of Bastia, L'Arinella de Marinella is a lovely beach known for its fine sand and calm waters. Surrounded by lush vegetation, it offers a serene and peaceful environment. The beach is family-friendly and offers amenities like parking, restrooms, and nearby dining options.

Miomo Beach: Located in the charming village of Miomo, just a short drive from Bastia, Miomo Beach is a tranquil and secluded spot. Surrounded by cliffs and greenery, this pebble beach offers stunning views of the sea and a peaceful atmosphere. It's an ideal spot for relaxation and swimming in crystal-clear waters.

Toga Beach: Situated in the Toga neighborhood of Bastia, Toga Beach is a small but beautiful sandy cove. With its calm and shallow waters, it's a great spot for families with children. The beach is easily accessible and offers a peaceful setting for sunbathing and enjoying the coastal scenery.

Pietranera Beach: Located north of Bastia, Pietranera Beach is a hidden gem nestled between rocky cliffs. It features a mix of sand and pebbles, and the surrounding landscape provides a sense of natural beauty and tranquility. The beach offers stunning views of the Mediterranean Sea and is an excellent spot for snorkeling and diving.
While these beaches near Bastia offer natural beauty and relaxation, it's worth noting that Corsica as a whole is renowned for its spectacular coastline. If you have the opportunity, consider exploring other renowned beaches on the island, such as Saleccia Beach and Palombaggia Beach, which are a bit further away from Bastia but are truly stunning in their own right.
Remember to check weather conditions, local regulations, and amenities before visiting any beach, and always exercise caution when swimming or participating in water activities.
Whether you choose to enjoy the convenience of the beaches near Bastia or venture out to other coastal destinations on the island, Corsica offers a wealth of natural beauty and idyllic seaside experiences.
Visit Bastia Corsica : Taste Local Products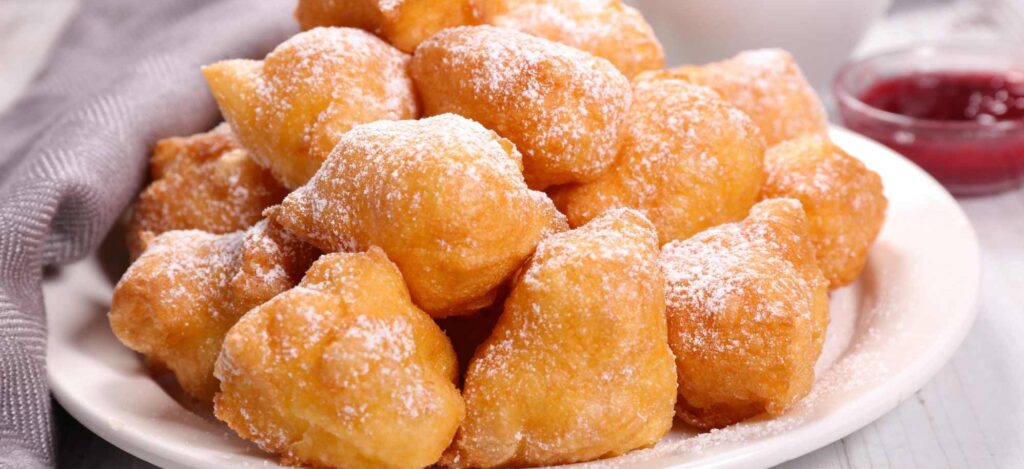 Bastia, located in Corsica, is known for its vibrant food market that showcases a variety of local products and flavors. Here are some local products you can find in Bastia's food market:
Fruits and Vegetables: Corsica's fertile soil and favorable climate yield an abundance of fresh and flavorful fruits and vegetables. Look out for locally grown citrus fruits, figs, chestnuts, honeydew melons, tomatoes, zucchini, and a wide range of aromatic herbs. The market offers an opportunity to taste the season's best produce.

Corsican Cheeses: Corsica is famous for its artisanal cheeses, and Bastia's food market is an excellent place to sample and purchase these dairy delights. Look for renowned Corsican cheeses like Brocciu (fresh sheep or goat cheese), Tomme de brebis (sheep's milk cheese), and Corsican Blue Cheese, which all offer unique and distinctive flavors.

Charcuterie: Corsican charcuterie is highly regarded for its quality and flavor. In the market, you'll find an array of cured meats such as lonzu (pork loin), prisuttu (cured ham), coppa (cured pork neck), and sausages like figatellu (pork liver sausage). These cured meats are perfect for creating a Corsican-style charcuterie platter or adding flavor to various dishes.

Olive Oil: Corsican olive oil is prized for its exceptional quality and taste. The food market in Bastia offers a variety of locally produced olive oils, ranging from delicate and fruity to robust and peppery. They are perfect for drizzling over salads, grilled vegetables, and other culinary creations.

Wine: Corsica has a long history of winemaking, and the food market in Bastia provides an opportunity to explore the local wines. Look for bottles of Ajaccio wines, produced in the nearby region, which often showcase the island's indigenous grape varieties and reflect the unique terroir of Corsica.

Baked Goods: Indulge in Corsican baked goods that are a delight to the taste buds. Canistrelli, mentioned earlier, are traditional biscuits available in various flavors like almond, lemon, and anise. Falculelle, small pastries filled with fig jam, are another treat worth trying.
When visiting the food market in Bastia, you'll have the chance to immerse yourself in the island's culinary traditions and experience the rich flavors that Corsican cuisine has to offer. From fresh produce and cheeses to cured meats and artisanal products, the market provides a treasure trove of local delights that showcase the authentic taste of Bastia and Corsica as a whole.