Visit Annecy France : unmissable sites
Visit Annecy, the famous Venice of the Alps, a superb destination located between lake and mountain. Capital of Haute Savoie, Annecy is ideally located and served. Close to Switzerland and French cities such as Lyon, Grenoble and Marseille, it is one of the most visited cities in France. 
Annecy is a city with many hidden treasures. You will be taken aback its history, its gastronomy, its varied landscapes as well as its many communities around. However, it is impossible for you to leave Annecy without having seen, crossed or even visited its three must-sees: the old town, the lake and the Palais de l'Isle.
The Old Town - Annecy France
The old town of Annecy is the tourist and historical heart of the city, it is a place with authentic charm, old architecture as well as diverse craft activity. Strolling through the historic center, you will discover the secrets, history and stories of the city. You can also see the succession of colorful buildings dating from the Middle Ages, the arcades of the 16th and 17th centuries and all the old and traditional architecture that shapes the old town of Annecy. It is also possible to follow the Thiou, a small river that crosses Annecy or to taste all kinds of regional specialities in the various restaurants of the old town.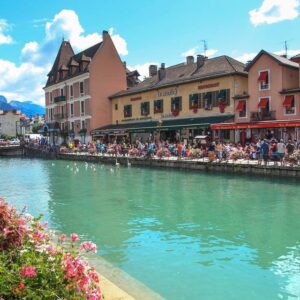 Come and enjoy an unforgettable experience while exploring Annecy lake ! On foot, by bike, aboard a boat or in the air, there are many ways to explore the Annecy lake. Discover the lake from all points of view. This lake is of a nameless beauty and gives access to many activities: cruises, swimming, diving, water sports, fishing, paragliding… The purity and clarity of Annecy lake make its reputation, in fact, this lake is today considered as the purest lake in urban environment in Europe. The discovery of Annecy lake by boat is the best way to enjoy it : cruises, barges, pedal boats, boat rides… There are choices for everyone !
Annecy France - The Palais de l'Isle
If you love museums and ancient stories, the Palais de l'Isle is the perfect place for you. It is a former prison and the monument is now symbolic of the city's historical heritage. This building was also once a monetary workshop, a courthouse and then a drawing school. Its fascinating history makes the Palais de l'Isle one of the Annecy's must-see tourist attractions. 

The city of Annecy has other surprises, activities and detours such as the Castle that overlooks the lake. It's also worth tasting local products such as "La Fondue", "la Tartiflette" that match very well with white wines.